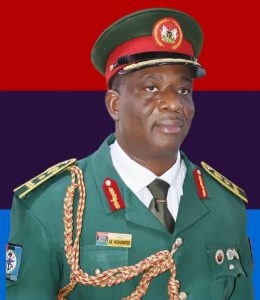 Brigadier General   Ahmadu Bello Mohammed was commissioned on 16 September 1990 a member of the 42 Regular Course into the Nigerian Army Infantry Corps in 1995. He holds a B.Sc. in Physics and Master of Arts in Disaster and Risk Management.
Military courses attended include Young Officers Courses (Infantry); Mechanical Transport Officer's Course, Junior and Senior Staff Courses at Armed Forces Command and Staff College Kaduna, Mortar Platoon Commanders Course, Commanding Officer's, and Royal College of Defence Studies Course United Kingdom.
Some of the appointments held in the course of his career include: Platoon Commander 19 Battalion, Administrative Officer HQ Sector 1 United Nations Mission in Sierra Leone, Instructor Depot NA, General Staff Officer's Grade 2 (Policy) HQ 1 Division, Assistant Deputy Military Secretary 6 MS (A); Military Assistance – Military Secretary (A), Military Assistance –  Chief of Administration, Officers' Commanding 73 Battalion. These Include Senior Instructor – Nigeria Army School Infantry, Directing Staff – Armed Forces Command and Staff College, Staff Officer Grade 1 (Operation) HQ I DIV, Commanding Officer's 174 Battalion, Deputy Chief of Staff (Operation) HQ 7 Division, Chief Instructor Armed Forces Command and Staff College. Other appointment include Deputy Director (Training) HQ Department of Training and Operations, Sector Commander Sector 2 Operations DELTA SAFE and Commander HQ 26 Task Force Brigade.
He is currently Director Higher Military Organsiation and Operations NDC Nigeria. He is decorated with FSS, MSS DSS psc(+) fdc(+) CM FCM.
Mohammed is happily married to Mrs Saadatu and has 3 children.  He enjoys reading and travelling.