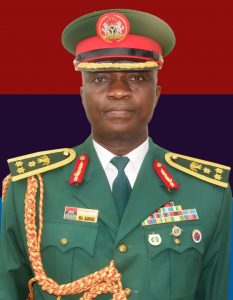 Brig Gen MA Sanusi was commissioned in 1987 as a member of 28 Short Service Combatant Commission after his university education in University of Ife (now Obafemi Awolowo University), Ile–Ife, Osun State. He has the following qualifications/certificates: Master in Environmental Resource Management – Lagos State University, Nigeria, Master in Strategic Studies – University of Ibadan, Nigeria, BSc. (Hons) Mechanical Engineering – University of Ife (now Obafemi Awolowo University), Nigeria, Advanced Diploma in Security Operations and Management – University of Lagos, Nigeria and West African School Certificate – Lagelu Grammar School, Ibadan, Nigeria as well as Primary School Leaving Certificate – St Pauls Anglican Primary School, Yemetu, Ibadan, Oyo State.
Brig Gen MA Sanusi has held various leadership, managerial, staff, technical and instructional appointments in the Nigerian Army since passing out of Nigerian Defence Academy in December 1987. Currently, he is the Director Department of Higher Military Organisation and Operations, National Defence College, Nigeria in charge of coordination of Module of Course Curriculum which is mainly devoted to higher management of defence conduct of some exercises at the strategic level.
The senior officer has participated in some seminars/workshops/trainings amongst which are Training on Geospatial Intelligence, International Telecommunication Union Workshop on "Environmentally Sound Management of Electronic Waste" (Durban, South Africa).
Brig Gen MA Sanusi has the following awards and honours: Grand Service Star (GSS), United Nations Operation in Cote d'Ivoire (ONUCI) Medal, Operation Harbin Kunama Medal, Pass Staff Course (psc), Pass Staff Course (daggar) (psc (+)), Fellowship of Defence College (fdc) and Fellowship of Defence College (daggar) (fdc (+)).
He is married and the union is blessed with 2 ladies and a man.