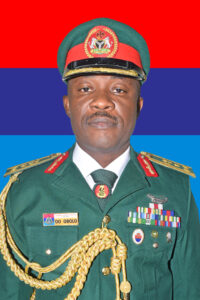 Brig Gen Oluremi Olawale Obolo was born on 26 April 1975 in Ondo State, Nigeria. He is a member of the 45 Regular Course of the Nigerian Defence Academy. He was commissioned on 19 September 1998 in the rank of Second Lieutenant into the Infantry Corps of the Nigerian Army. He grew through the ranks as at when due till he was promoted Brig Gen in 2021.
Brig Gen Obolo served in several units and formations which include 35 Battalion, 65 Battalion, 4 Brigade, 81 Division, 7 Division, HQ Infantry Corps and Centre, Nigerian Defence Academy, Armed Forces Command and Staff College, HQ and Sector 4 Operation DELTA SAFE, HQ Nigerian Army and Ministry of Defence. He is currently serving in the National Defence College (NDC). Some of the appointments, held include: Platoon Commander, Company Commander, Battalion Adjutant, Instructor, Commanding Officer, Directing Staff, Chief Instructor, Deputy Chief of Staff, Chief of Staff and Sector Commander. He was a Directing Staff in the NDC before his current appointment as the Director of Coordination.
He participated in several Operations within and outside Nigeria including Operation Harmony IV in Bakasi Peninsular, Op FLUSH OUT II in Katsina, Op MESA in Lagos, Op ZAMAN LAFIYA and Op LAFIYA DOLE in the North East, Nigeria and Op DELTA SAFE in South South Nigeria. Brig Gen Obolo served in the United Nations Peacekeeping Mission in Sierra Leone 2001/2002 as a member of the Nigerian Contingent. He was also an observer in the United Nations Mission in Burundi 2005/2006. Brig Gen Obolo attended several courses commensurate to his rank which include; Junior Command and Staff Course Jaji Kaduna, Senior Course Quetta Pakistan, Unit Command and Staff Course Sylhet Bangladesh, UN Civil-Military Coordination Course Accra Ghana, International Humanitarian Law Instructor's Course Jaji Kaduna, Defence Advisers Course and National Defence Course Amman Jordan.
He holds a First-Class Honours Bachelor of Engineering Degree in Electrical and Electronic Engineering from NDA Kaduna, MSc Arts and Science of Warfare from Pakistan, MSc Computing and Security from Kings College London, MSc Management and Strategic Studies from Mutah University Jordan and Master in Leadership Studies from NDA Kaduna. The senior officer loves reading, listening to music, travelling and making friends. At his leisure, he plays Golf and keeps fit. He is married and blessed with children.