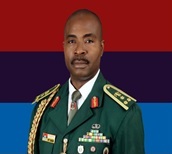 Brigadier General Hassan Taiwo Dada was born on 21 May 71 to the family of Alhaji and Alhaja Sulaiman Dada of Ilaro, Egbado South Local Government Area, Ogun State.   He had his primary, secondary and post-secondary education in Abeokuta Ogun State between 1975 and 1988. He gained admission into the Nigerian Defence Academy (NDA) as a member of 40 Regular Course in 1988.
He graduated from NDA with a BSc Hons in Biological Sciences in 1992 and was commissioned into the Nigerian Army Corps of Infantry in 1993.  He was subsequently posted to 3 Guards Battalion where he was appointed Pl Comd, RSO, Adjt and Sports Officer.  Other units served and appointments held include; 103 Bn – Coy 2iC, OC and MTO, NIGBATT 1 UNAMSIL as Coy 2iC and Admin Offr UNAMSIL DDR Camp Lungi Sierra Leone, NMS – Instructor, Sports Offr, OC, Ag CI and Ag CO Boys Bn, 26 Bn (NIBATT 2 UNMIL) as Ops Offr, 222 Bn/22 Bde – OC, SO2 G1 and Ag G1 Trg/Ops, AHQ DATOPS SO 2 Ops Contingency Planning and AD Log  DPKO, AFCSC as a Directing Staff, 146 Bn – CO, AFCSC – Chief Instructor, 81 Bn AFISMA/113 Bn – CO and DHQ as AD OPS (L). He also served at HQ NATRAC – GSO 1 G3, HQ TC OPLD – COS, HQ 5 BDE – Comd, HQ TRADOC – D JCD & COS and presently at NDC Nigeria as a Directing Staff and Director Higher Military Organisations & Operations. His operational experiences include; UNAMSIL, UNMIL, PULO SHIELD, DELTA SAFE, BOYONA, ZAMAN LAFIYA, LAFIYA DOLE and CRACKDOWN 1 & 2. Other operational experiences include DEEP PUNCH 1 & 2, RESCUE FINALE, AMNI FAKAT and LAST HOLD.  He has attended number of courses which include Basic Airborne, YOC Infantry, YOC PT, Anti-Tank Pl Comds' Course, Junior and Senior Staff Course, Basic and Advance Range Management Courses, Basic and Military French Courses and Commanding Offrs' Course. He is a holder of 3 master degrees in political science, criminal justice and strategic studies. Also, a graduate of Harvard Kennedy Business School and he is currently undergoing a PhD Programme in International Relations and Strategic Studies.
He is married to Mrs Nafeesat Dada and the marriage is blessed with 4 children (3 boys and a girl). He loves meeting people, playing golf and scrabble.