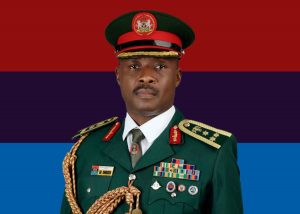 Brigadier General Obinna Godwin Onubogu was born in Surulere, Lagos State. He hails from Anambra State. The senior officer attended Yewande Memorial School Lagos, Airforce Primary School Kano, and the Nigerian Military School Zaria and obtained the West African School Certificate with Distinction grade in 1987.  He is a graduate of the Nigerian Defence Academy, and a member of 41 Regular Course. He was commissioned into the Nigerian Army as a Second Lieutenant on 17 September 1994. The senior officer is of the Infantry Corps.
The senior officer holds a Bachelor of Science (Honours) in Physics from the Nigerian Defence Academy, a Post Graduate Diploma in Remote Sensing and Geographic Information Systems from African Centre for Space Science Technology Education (in English) in Obafemi Awolowo University Ile-Ife, another Post Graduate Diploma in Peace and Reconciliation Studies from Coventry University United Kingdom and a Masters in Security and Strategic Studies from the Post Graduate School of the Nigerian Defence Academy. He has also obtained certifications in several fields of endeavour including a Certificate from the Harvard Kennedy School, Boston USA having attended the Senior Executive in National and International Security 2017, among others.
The senior officer has attended several military courses and obtained various degrees and awards. Some of these courses include the Young Officers Course Infantry at the Nigerian Army School of Infantry Jaji, Amphibious Staff Officers Course at the Amphibious Training School Calabar and Senior Staff Course at the Armed Forces Command and Staff College Jaji. He has also attended the Commanding Officers Course at the Nigerian Army School of Infantry Jaji, and the Peacekeeping Stabilization Operations Course at the Land Warfare Centre Warminster-United Kingdom, among others. The senior officer was a participant at this prestigious National Defence College, as a member of Course 25.
Brigadier General Obinna Onubogu has garnered immense peacekeeping experience while serving in a number of peacekeeping missions in Liberia, Sierra Leone, DR Congo, and Guinea Bissau. He was a contingent member of the ECOWAS Monitoring Group (ECOMOG) between 1996 and 1999 and served in both Liberia and Sierra Leone. He returned to Sierra Leone in Year 2001 and served under the United Nations Mission in Sierra Leone (UNAMSIL). Subsequently, he served as a Military Observer (MILOB) under the auspices of the United Nations Mission in DR Congo (MONUC) from 2005 to 2006 and served as a Deputy Force Commander at the ECOWAS Mission in Guinea Bissau (ECOMIB) from 2012 – 2014.
The senior officer has served in several military units and establishments in various staff, instructional and operational capacities and held various appointments. He was at various times a Platoon Commander, Adjutant and Company Commander whilst at 26 Battalion. He also served as Staff Officer Grade 2 (Operations) at Headquarters 81 Division, Staff Officer Grade 2 at the Department of Military Secretary (Army), Assistant Director Peacekeeping Operations at the Department of Training and Operations (Army), Nigerian Contingent Commander and Deputy Force Commander of the ECOWAS Mission in Guinea Bissau, as well as Deputy Director for Counter Terrorism and Counter Insurgency Operations at the Nigerian Army Training Centre (NATRAC). The senior officer also served as Deputy Chief of Staff (Administration) at Headquarters 1 Division as well as Deputy Director (Plans) at the Department of Policy and Plans (Army). He also commanded 16 Brigade Yenagoa. Obinna contributed immensely to counter terrorism/insurgency operations in North-East Nigeria, under Operation LAFIYA DOLE as Commander 25 Brigade Damboa and Commander 29 Task Force Brigade Jakana.
Brigadier General Obinna Onubogu is currently the College's Director of Higher Management Organization and Operations. In this capacity, he supports the policy and academic directives of the Commandant NDC and the Deputy Commandant/Director of Studies. He also provides strategic level direction to directing staff and participants particularly at the start of each course. He is responsible for conducting one of the final strategic national exercises for participants on the course. The exercises are intended to serve as capstone packages that test participants' assimilation of the entire course package.
Obinna is a member of several professional bodies some of which are Society for Conservation-GIS and the Nigeria Institute of Management. He is happily married and blessed with 4 children. He loves reading, jogging, photography, playing lawn tennis, playing scrabble/chess, watching football and outdoor adventure/travelling.