Brig Gen Aniedi Effiong Edet
Director, Coordination(D COORD)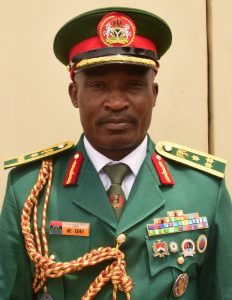 Brig Gen Aniedi Effiong Edet was commissioned into the Nigerian Army Electrical and Mechanical Engineers Corps in September 1995. He holds a Bachelor of Engineering degree in Electrical/Electronics Engineering from the Nigerian Defence Academy Kaduna (1995); Masters in International Affairs and Diplomacy, Ahmadu Bello University, Zaria (2002); Masters in Governance and Leadership, Ghana Institute for Management and Public Administration, Accra Ghana (2013); and Masters of Science in National Security Strategy from the US National Defense University (2017).
He has held several command, staff and instructional appointments within and outside Nigeria. He was a comparative member of the Directing Staff at the Ghana Armed Forces Command and Staff College, Accra (2011-2013). He was also a Chief Instructor at the Armed Forces Command and Staff College, Jaji (2015-2016). He served in the Office of the Nigerian Army Operations Monitoring Team as Deputy Director Logistics/Campaign Studies and Analysis and participated in ECOWAS Regional Force and many United Nations missions such as ECOMIL (Liberia, 2003), UNMIL (Liberia, 2003-2004), UNMIS (Sudan, 2007) and UNAMID JOC (Darfur, 2007-2008).
Brig Gen Edet has attended several courses within and outside Nigeria. He joined the US National War College as International Fellow in June 2016, and graduated in June 2017 as a "Distinguished Graduate" and recognized award winner for Best Individual Student Research Paper by an International Fellow in the US College. Other Awards and Decorations include; Forces Service Star, Meritorious Service Star, pass staff college (++), UNMIL Medal, UNAMID Medal, ECOWAS Mission in Liberia Medal, Field Training Assistant Medal (Ghana), Field Command Medal, Nigerian Army Invention Medal, Distinguished Graduate US National Defense University, Best International Student Research Paper 2017.
Special Areas of Interest:  National Security Strategic, Negotiation and Diplomacy, African Regional Studies, American Studies.
Membership of Professional Bodies: Member, Nigerian Society of Engineers; Member, Council for the Regulation of Engineering in Nigeria; Fellow, Chartered Institute of Transport & Logistics; Chartered Member, Nigerian Institute of Management; Alumni, National War College Association, Washington DC; Member, Africa Centre for Strategic Studies, Washington DC; Alumni, Near East South Asia Centre for Strategic Studies; Alumni, Association of the National Defence College (AANDEC).