Brig Gen OO Obolo
Director, Coordination (D COORD)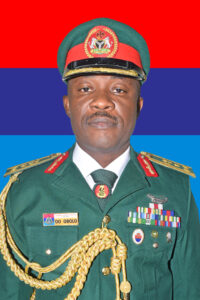 Brig Gen OLUREMI OLAWALE OBOLO is an Infantry Officer by specialization. He obtained Bachelor of Engineering Degree in Electrical and Electronics Engineering with first class honors from Nigerian Defence Academy. He proceeded to University of Baluchistan Pakistan for his Masters Degree in Art and Science of Warfare, he also holds a Masters Degree in Computing and Security from Kings College London and Masters Degree in Management and Strategic Studies from Mutar University, Jordan.
Brig Gen Obolo attended Command and Staff College Quetta Pakistan in 2009 and Royal Jordan National Defence College in the year 2020 respectively.
Brig Gen Obolo was a Directing Staff (DS) at Armed Forces Command and Staff College Jaji Kaduna. Other appointment held by the senior officer includes; Commander Sector 4, JTF SS OPDS, Chief of Staff (COS), HQ JTFSS OPDS, COS HQ 4 BDE and member of Directing Staff at National Defence College Nigeria (NDC). He is currently the Director of Coordination at NDC.