Brig Gen EF Oyinlola
Director, Coordination (D COORD)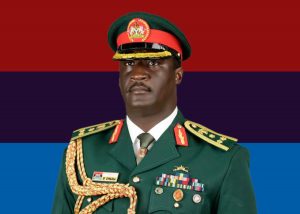 Brig Gen Eyitayo Folusho Oyinlola (N/9996) was born on 9 Jan 73 in Lagos. He hails from Osun State. He attended AWA Nursery School, Kaduna from 1976-1978 and Command Children School, Kaduna between 1978-1984. He was at the Nigerian Military School, Zaria 1984-1989 from where he gained admission into the Nigerian Defence Academy, Kaduna in 1990 as a member of 42 Regular Course. He was commissioned Second Lieutenant on 16 Sep 95. He has attended several courses including YOC (Inf), YOC (Armr), Mor Pl Comd Course, Armr Pl Comd Course, Weapons Instructors Course and Coy Comd Course. Other courses include Junior Staff Course at AFCSC in 2001, Senior Staff Course (India) in 2006, Armour Bn Comd Course, International Peace Support Operations Course (KAIPTC) and National Security and War Course at the National Defence University, Pakistan in 2016.
He has a BSc (Hons) Degree in Mathematics (NDA); Masters Degree in Defence and Strategic Studies from the University of Madras, India; Masters Degree in National Security and War Studies from the National Defence University, Islamabad, Pakistan and attended the Senior Executives Programme in National and International Security at the Harvard Kennedy School of Executive Education (Harvard University), Cambridge, Massachusetts, USA (2014).
He has held several appointments including Pl Comd, 232 Tk Bn; Pl Comd, 231 Tk Bn; Coy 2ic, 65 Mech Bn, OC, 65 Mech Bn and Instructor, ACCS. He was also a Staff Offr at UNMIL; GSO2 FG at AHQ DATOPs and MA-MS(A), AHQ MS. Brig Gen Oyinlola was ADMS 3 at AHQ MS, COS HQ Sector 1 Op RESTORE HOPE, CO 211 Demo Bn and Comd AHQ Special Forces Team B OP ZAMAN LAFIYA. He was also ACOS G1 and G4 at NATRAC, AD Vet Affairs MOD/DHQ, Coord CTC ONSA, DD FG AHQ DATOPs, Comd 22 Bde (OP LAFIYA DOLE) and DS NDC.
He participated in the following Operations/Missions: ECOMOG (OP SANDSTORM) – Sierra Leone, UNAMSIL, UNMIL, OP RESTORE HOPE, OP ZAMAN LAFIYA and OP LAFIYA DOLE. He has the following honours and awards: Forces Service Star, Meritorious Service Star, River Niger Star, Passed Staff Course, Nigerian Army Purple Heart, Command Medal, General Operations Medal, National Security and War Course (Pak), Field Command Medal and Distinguished Service Star. He is happily married and blessed with 5 children. His hobbies include reading, travelling and playing Squash.