Air Vice Marshal BO Solomon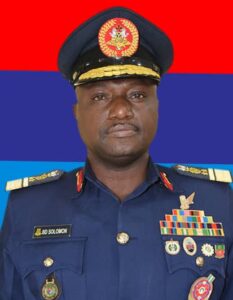 Air Vice Marshal Bgmibgmitawuza David Solomon was born on 3 September 1969. He hails from Gurara Local Government Area of Niger State. The officer completed his primary education at Bosso Primary School Minna in 1980 before proceeding to Air Force Military School Jos and graduated in 1986. In 1987 he attended the Nigerian Defence Academy as a member of 39 Regular Course where he graduated with a Bachelor of Science Degree (Hons) in Mathematics and was commissioned pilot officer in September 1992.
The officer attended Officers' Basic Engineering Course from September 1991 to July 1993, Military Police Officers' Basic Course 16 at the Nigerian Army School of Military Police Bassawa, Zaria from September to December 1994. He also attended Student Pilot Course 32 at 401 Flying Training School Kaduna between 1997 and 2001 where he flew the Air Beetle aircraft. The officer attended Junior Division Staff Course 49
in 2000 and Senior Division Staff Course 27, from August 2004 to July 2005, both at the Armed Forces Command and Staff College Jaji, Nigeria. He underwent Type Rating Course on the F-7NI & FT-7NI aircraft in China from March to May 2009. The senior officer attended the National Defence University Islamabad, Pakistan from August 2014 to July 2015 where he obtained MSc degree in National Security and Defence Studies. Air Vice Marshal BD Solomon also holds a PGDPA and currently pursuing a PhD (Thesis level) in Security Studies.
Air Vice Marshal Solomon attended several seminars and workshops some of which are; Total Quality Management Course at UNILAG CONSULT in 2004, Certified Recruitment Analyst Course organized by MEC India and CAMI USA in Oct 2006 at the Federal Palace Hotel Lagos, Seminar/Training Workshop on Democracy, peace building and conflict management for the military at Nigerian Air Force Base Kaduna from 3 to 7 July 2006, Project Management Course from November to December 2010 at the Administrative Staff College of Nigeria, Badagary, Lagos. He also attended Continuing Airworthiness & Quality Management and Initial Human Factors in Aircraft Maintenance Courses both at Surrey, United Kingdom in Sep 11. The officer was also a member of the Ministry of Defence Team to New York to attend the Small Arms and light weapons Conference in 2013.
The officer held various appointments some of which are; Administrative Officer, Vehicle Aerospace Ground Equipment Overhaul Centre at Ikeja between September 1994 and               June 1995, member of Directing Staff from January 2007 to February 2009 at the Armed Forces Command and Staff College Jaji which earned him the insignia, psc(+). He was Military Assistant to the Permanent Secretary Ministry of Defence from  July 2012 to July 2014, Commanding Officer Jet Aircraft Overhaul Centre at 131 Engineering Group, Makurdi from July 2015 to November 2016 and Dean School of Postgraduate Studies at Air Force Institute of Technology, Kaduna from November 2016 to    February 2017. He was a Member of Faculty (Directing Staff) and later Director ICT at National Defence College, Abuja where he obtained the insignia Fellow of the Defence College dagger     (fdc(+)). The Senior Officer was the Managing Director Nigerian Air Force Housing and Construction Company between
March 2019 to March 2021 and Director of Manual Headquarters Nigerian Air Force from March 21 to August 2021. He was the Director of Works Headquarters, Nigerian Air Force Abuja and currently College Secretary National Defence College, Abuja.
The Senior Officer is an ardent golfer. He loves little children, nature and also enjoys watching football. He is married to Elizabeth and have 5 boys.