Air Vice Marshal TZ Dauda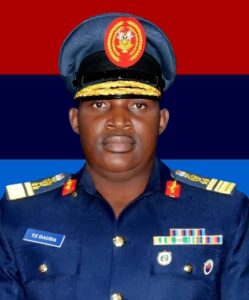 AVM Titus Zuwahu Dauda was born on 16 Nov 1968 in Mallagum II, Kagoro. He hails from Mallagum II in Kaura Local Government Area of Kaduna State. He attended the Mallagum II Primary School from 1976 to 1982 and Government College, Kagoro from 1983 to 1987. He gained admission into the Nigerian Defence Academy as a member of 40 RC in 1988 and was commissioned into the NAF as a pilot officer on 25 Sep 1993.
After the Basic Officers Engineering Course at the Air Force Institute of Technology, he was posted to 107 Air Maritime Group, Benin-City where he served as the AO of the Engineering Wing from 1996-1998. He was also the Acting CO, Engineering Wing of the same unit in 1999. From 1999-2002, he was a student pilot at 401 FTS Kaduna. In 2003, he was posted to HQ NAF as SO2 Operations. After his Senior Course at the AFCSC Jaji in 2007, he was posted to HQ TAC as the SO1 R&D. He also served in 131 Engr Gp, Makurdi as the CO Electrical Wing. In 2012, he was posted to HQ NAF as the Training Officer, PIMT. Other appointments that the senior officer held include Directing Staff and DICT in the National Defence College, Command Aircraft Engineering Officer at HQ TAC and Commander 131Engineering Group, Makurdi. His last appointment before the recent posting to NDC was as Director Aircraft Engineering at the Aircraft Engineering Branch in HQ NAF.
AVM TZ Dauda has attended several courses including DO 128-6, DO 228 and the   F-7Ni aircraft Type Rating Courses. He also attended several management courses in Nigeria and abroad. He attended the Junior Staff Course in Beijing, China and the Senior Staff Course at the Armed Forces Command and Staff College, Jaji. He also attended NDC  Course 24. The snr offr holds a bachelor of engineering degree in electrical and electronics engineering from NDA and a Masters Degree. His decorations include FSS, MSS, DSS, psc and fdc (+).
AVM TZ Dauda is married to Dr (Mrs) Wuese Dauda and the marriage is blessed  with 2 sons. His hobbies include travelling, watching football and documentaries, playing chess and badminton.