Air Vice Marshal BLP Keenam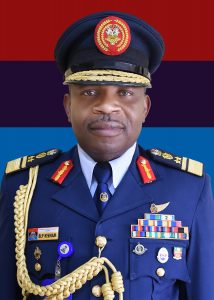 Air Vice Marshal Barisi Lucky Puekpugih Keenam was born on 14 February 1969, in Beeri in Khana LGA of Rivers State. He had his primary education at State School Beeri before proceeding to Federal Government College Port Harcourt for his secondary education from 1981-1986. In 1987 he was admitted into the Nigerian Defence Academy, Kaduna as a member of 39 Regular Course and subsequently commissioned into the Nigerian Air Force on 12 September 1992 having obtained the BSc (Hons) degree in Mathematics.
He attended the Officers' Engineering School at Nigerian Air Force Institute of Technology, Kaduna from 1991- 1993 where he studied Aeromechanical Engineering, before type-rating on the C-130H Aircraft in 1996. He undertook the Junior Command and Staff Course in year 2000, and then the Senior Command and Staff Course from 2004 – 2005, both at the Armed Forces Command and Staff College Nigeria. He attended the C-130H Aircraft Simulation Maintenance Course at British Aerospace Systems Tampa, Florida, USA. Air Vice Marshal Keenam is a Fellow of the National Defence College (NDC) Nigeria, having been a Participant of NDC Course 23. He is also a Fellow of the Institute of Finance and Control, a Member of the Chartered Institute of Public Managers and Member of the Nigerian Institute of Management among others. Some of the appointments held by Air Vice Marshal Keenam over the course of his career include; Administrative Officer Engineering Wing, Engineering Control Officer 21 Engineering Wing, Commanding Officer Logistics Wing 201 Heavy Airlift Group and Commanding Officer 40 Engineering Wing. He also served as a United Nations Military Observer in the United Nations Mission for the Referendum in Western Sahara.
Air Vice Marshal Keenam is happily married and the marriage is blessed with four children. His hobbies include; traditional wrestling, volleyball and football.