Rear Admiral MM Bashir

GSS psc(+) fdc(+) nswc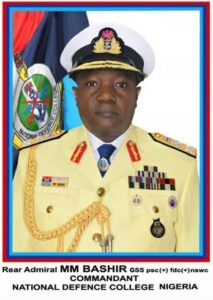 Rear Admiral Murtala Mormoni Bashir is a member of the 38 Regular Course of the Nigerian Defence Academy (NDA) Kaduna and was commissioned into the Nigerian Navy on 21 September 1991. The Admiral is an Above Water Warfare Specialist and has attended several military and civil courses during his career. Notable among them are the Junior and Senior Command and Staff Courses at the prestigious Armed Forces Command and Staff College Nigeria.  He was also at the National Defence University Islamabad Pakistan to attend the National Security and War Course, where he earned the Symbol "nswc". Admiral Bashir holds a Bachelor of Science degree in Mathematics and Masters Degrees in International Affairs and Diplomacy, as well as Security and War Studies.
The Senior Officer has served in several capacities, some of which include; Directing Staff at the Armed Forces Command and Staff College Nigeria, Assistant Director of Operations at Naval Headquarters (NHQ), Naval Assistant to the Chief of the Naval Staff, Deputy Director Combat Policy and Tactics NHQ, Commanding Officer Nigerian Navy Ship EKUN,  Deputy Director of Administration NHQ, Deputy Director Recruitment, Reserve and Resettlement NHQ, as well as Directing Staff and subsequently Director Department of Curriculum and Programme Development, at the National Defence College Nigeria. He went on to serve as Director of Operations NHQ, and later as Chief Staff Officer Western Naval Command Lagos. Admiral Bashir has the following awards and decorations, amongst others; Grand Service Star, Pass Staff Course Dagger [psc(+)], Distinguished Fellowship of the Defence College [fdc(+)], as well as nswc.
Most recently, Rear Admiral Bashir was the Commandant of the Naval War College Nigeria until his appointment as the Commandant of the National Defence College Nigeria. The Senior Officer is married with 5 children and enjoys reading and football.