Major General EV Onumajuru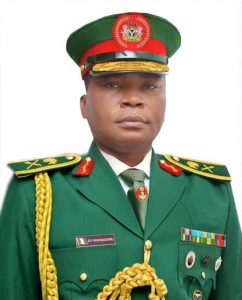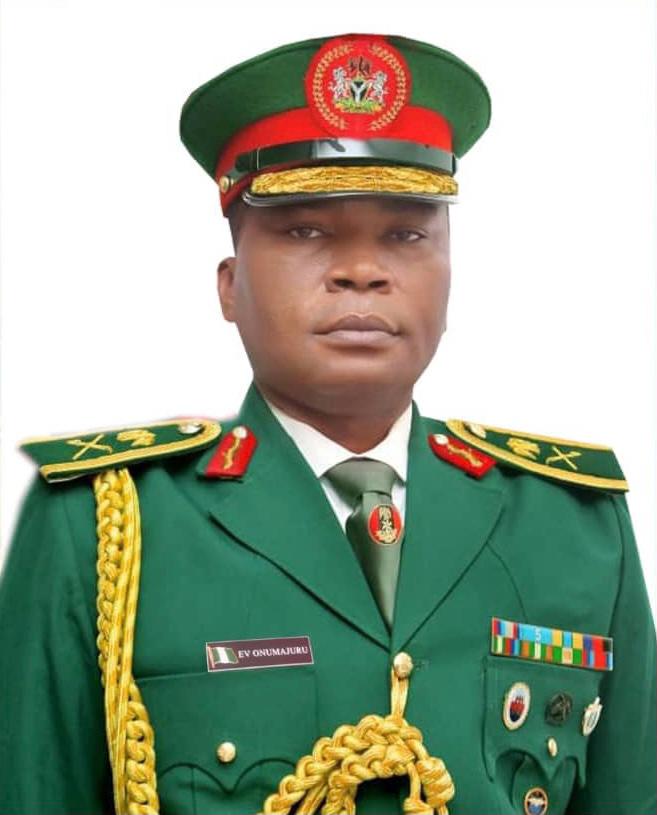 Major General   Emeka Onumajuru was commissioned as a member of the 39 Regular Course into the Nigerian Army Intelligence Corps in 1992. He holds a B.Sc in International Relations and Defence Studies from NDA Kaduna, MA International Affairs from University of Ghana – Legon, MA in Defence Studies from Kings College London and M.Sc Strategic Studies from the University of Ibadan. Others are Post Graduate Diploma in Strategic Management from the UK Institute of Management and a Ph.D in Political Science from ABU Zaria.
Military courses attended include Young Officers Courses (Intelligence and Infantry); Advanced Operations Course; Junior and Senior Staff Courses at Armed Forces Command and Staff College Kaduna and Advanced Command and Staff Course at the Joint Services Command and Staff College, Shirvinham, UK. He attended the National Defence College Abuja and has also attended several strategic security and peace operations courses, conference and exercises. These  include Leadership and Change Course (Harvard Kennedy School, USA), National Security and Diplomacy Course (Galilee International Management Institute, Israel), Countering Violent Extremism and other Irregular threats at the Strategic Level (College of International Security Affairs, National Defence University Washington DC, USA), Strategic Estimate Framework for Countering Terrorism and other Irregular Threats (College of International Security Affairs, National Defence University, Washington DC, USA) and Emerging Issues in International Security (Geneva Centre for Security Policy, Geneva). Others are United Nations Staff Officers Course (Sweden), International Peace Support Operations Course (Ghana), Economic Reconstruction in Conflict- Affected States (USA), Applied Conflict Analysis Course (Italy), Nontraditional Aspects of Security Threats (Geneva), Problem Solving and Decision Making (USA), Global Diversity (USA), and Management Development Course (USA).
Some of the appointments held in the course of his career include Int/Ops Officer – NIBATT II, UNISOM II Somali; Military Assistant – Director of Military Intelligence; Military Assistant -GOC 1 Div; Deputy Comd, 82 Div Int Comd; Military Assistant –Chief of Army Staff; Military Assistant – Chief of Defence Staff; Directing Staff-AFCSC, Commander 81 Military Intelligence Brigade and Director Military Training–Nigerian Defence Academy. Other appointments include Deputy Defence Adviser-Nigeria High Commission Accra-Ghana, Military Liaison Officer, Office of Operations, Department of Peace Operations -UN HQ, New York; and DS, Director Higher Military Operations and Director Coordination, National Defence College, Abuja and Director Peace Keeping Operations, Army Headquarters Abuja. He is currently Deputy Commandant and Director of Studies NDC Nigeria. He is decorated with DSS, psc (+), psc (j), fdc (+), UNISOM II and UNHQ Medals. Emeka is happily married to Mrs Iniobong Onumajuru and has 3 children.