Maj Gen Lawrence Ayaegbunem FEJOKWU

DSS psc fdc(+) ndc(K) CM FCM NAPH MA CCA FCMH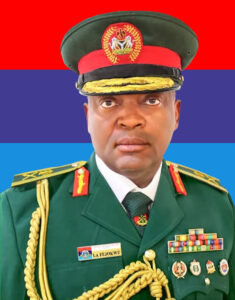 Major General Lawrence Ayaegbunem Fejokwu was born on 9 February 1968 in Onicha – Ugbo, Delta State.  He attended Saint Peters Primary School, Benin City.  Thereafter, he proceeded to Saint Pius Xth Grammar School, Onicha Ugbo from September 1979 to June 1984.  He joined the Nigerian Defence Academy, Kaduna as a member of 39 Regular Course in September 1987 and commissioned to the rank of Second Lieutenant in September 1992, having obtained a Bachelor of Arts Degree in History.
He has attended the requisite courses including Junior and Senior Course in Armed Forces Command and Staff College, Jaji.  He also attended the National Course at the National Defence College, Nairobi.  He holds a Masters Degree in International Relations from Lagos State University and another Masters Degree in International Studies from University of Nairobi.
He has served in various capacities in several Units, Formations and Establishments. These includes; 65 Battalion Sokoto, Headquarters 2 Brigade Port Harcourt, Command Army Records Lokoja, Army Headquarters Department of Military Secretary Abuja and National Defence College, Abuja. He also served at Army Headquarters Department of Army Administration Abuja and Defence Headquarters.
Some notable appointments held in the course of his career include, Platoon Commander, Company Commander, Battalion Commander, Staff Officer in Army Headquarters, Brigade Commander, Directing Staff and Director of Personnel Services. Others are General Officer Commanding 81 Division Nigerian Army and Director Veterans' Affairs Defence Headquarters.  He took over the appointment of Deputy Commandant/Director of Studies National Defence College, Abuja on 27 January 2023.
He is happily married and the union is blessed with children.