Commodore Abdul Adamu ODUMU
Director of Administration (DOA)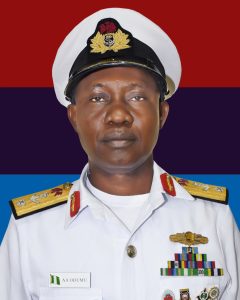 Commodore Abdul Adamu Odumu was born on 5 Jan 65 in Ogwule Village in Agatu LGA of Benue State. He had his primary school education in same village before proceeding to Government Secondary School Otukpo for his secondary education from 1978 to 1983. He joined the Nigerian Navy (NN) as a member of the 6th Regular Course at the Naval College ONURA, Onne from 1985 to 1987 and was commissioned into the NN on 8 Jul 89.
Since he joined the Service, Odumu has attended several military courses including Sub-Technical Course at NNS QUORRA (1989-1990), Officers' Long Course (OLC) at NNS QUORRA (1991-1992), Principal Warfare Officers' (PWO) Course at the Naval College Onne (2000), Junior and Senior Staff Courses both at the Armed Forces Command and Staff College (AFCSC), Jaji (2001 and 2004/2005 respectively). The officer has also held many appointments; major of which are OLC Instructor at NNS QUORRA (2000-2003), Training Coordinator at the Nigerian Navy Basic Training School (NNBTS) Onne (2005-2007), Executive Officer NNS OHUE (2007-2008), 1st Lt NNS VICTORY (2008-2009), OPFOR Comd at the Simulation Centre Jaji (2009-2010), Assistant Director (AD) Admin at NHQ (2010-2011), Deputy Director Admin at NHQ (2011-2012), AD Transformation at DHQ (2012-2013) and AD Drafting Coord at the Comd Naval Drafting Apapa Lagos (2013) from where he was nominated for the NDC Course 22 from 2013-2014).
On graduation from NDC in 2014, he was appointed Comd Forward Operating Base (FOB) Ibaka before he was appointed to NHQ as DD Training in 2015. Others are Dy Superintendent Naval Ordnance Depot Lagos from 2016-2017, DD Admin Defence Intelligence Agency from 2017-2018, DD Transformation at DHQ in 2018 and Director Special Projects at NHQ from 2018-2020 and Director Standard at NHQ from 2020-2021 before his current appointment as Director of Admin at NDC WEF 15 March 2021.
Commodore Odumu's awards and decorations include Forces Service Star (FSS), Meritorious Service Star (MSS), Distinguished Service Star (DSS), passed staff college (psc) and UN Medal (MONUC Congo DR). Odumu holds a Certificate of Shipping from the Certified Institute of Shipping Lagos, a Bsc in Business Admin from University of Lagos, Masters in Strategic Security Studies at University of Ibadan, Masters in Transport Management (MTM) from Ladoke Akintola University of Technology Ogbomoso, Postgraduate Diploma in Peace and Conflict Studies from National Open University of Nigeria and now undergoing a PhD Course in Peace and Conflict Studies at Nasarawa State University, Keffi. He is happily married to Fatima Saluhu Odumu and blessed with 3 children comprising 2 boys and 1 girl. His hobbies include jogging, reading, playing squash and family outing.