Commodore Adetola Olukoya BAMIDELE
Director of Administration (DOA)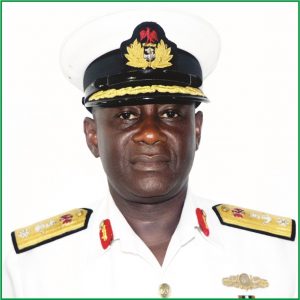 Commodore  Adetola Olukoya  Bamidele was born on 8 December 1965 at Ijebu-Ife, Ogun State to the family of  Mr and Mrs Bamidele.  He started his primary education at Zumuratul Islamiya Primary School, Olodi Apapa in 1972 and completed in 1979. He was admitted into Itele High School in 1979 and graduated in 1984. By June 1986, he joined the Nigerian Navy (NN) as a member of 7 Regular Course, Onura and was commissioned Sub Lt on 19 July 1990.
Thereafter, he proceeded for Sub Technical Course at NNS QUORRA in 1991 and by 1995 was promoted Lt. Few years after, he was nominated for Junior Staff Course as a member of JC50/2000 in June 2000 at AFCSC Jaji and was promoted to the rank of Lt Cdr while on the course.  On completion, he returned to NNS QUORRA in 2001 for his specialization course and graduated as a communication specialist in 2002.  By 2004, he was selected for Senior Staff Course at AFCSC, Jaji as a member of SC27 and graduated in 2005. Upon successful completion of the Senior Staff Course, he was promoted to the rank of Commander. He was promoted Capt in 2010. The senior officer proceeded to the National Defence College, Nigeria in 2013 and was promoted to his present rank in 2015.
Commodore Bamidele has served onboard several NN ships amongst which are NNS ARADU ( 1990-1991), DAMISA ( 1996- 1998), NWAMBA (2003-2004), QUORRA (2007-2009), HQ ENC (2014), NHQ (2017), HQ ENC (2017-2019). He has also served in Tri-Service institutions such as AFSC Jaji (2006-2007) and DHQ Gar (2011-2013). The senior is currently the Director of Administration National Defence College, Nigeria.
In the course of his military career, he has held several appointments some of which are Chief Instructor Communication School, NNS QUORRA, OIC Abj CIT Stn, CO NNS MAKURDI, Gar Admin Officer, DHQ and Command Operation Officer Eastern Naval Command. He was privileged to be among the few naval officers selected to sail one of the Cat Class (NNS NWAMBA) from Califonia, USA to Nigeria, a trip that took the ship through the Panama Canal and the Carribean Sea. Commodore Bamidele holds a Post Graduate Diploma in International Relations and Strategic Studies from Lagos State University and Masters Degree in Transport Management and Strategic Studies from Ladoke Akintola University of Technology and University of Ibadan respectively.
He is happily married to Mrs Yewande Bamidele and the marriage is blessed with 3 lovely children.
His hobbies are reading and playing table tennis.