Brig Gen Abiodun Adebayo FADAYIRO
Director of Logistics (DOL)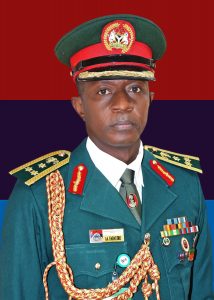 Brigadier General Abiodun Adebayo Fadayiro was born on 11 Sep 71 in Ilaro, Ogun State Nigeria.  He was admitted into the Nigerian Defence Academy Kaduna on 16 Sep 91 as a member of 43rd RC. He graduated with a B Eng in Mechanical Engineering in 1995 and was commissioned a 2nd Lieutenant in 1996.  On commission, he was posted to 1 Base Wksp Yaba, Lagos as Platoon Commander.  He has served in several units, formations and higher headquarters which include 73 Bn, Gds Bde Wksp, AHQ DOAL, NDC, AFCSC, HQ 2 Div and HQ 3 Div. He was promoted to the present rank of Brigadier General on 16 Sep 19.
Brigadier General AA Fadayiro has held several command and staff appointments commensurate to his rank and experience. These were AO, OC LAD, Prod Offr, Ag Coy Comd, Ag CO, DS at Armed Forces Command and Staff College, CO and Ag Comd 103 Div Eqpt Sp.   He was Ag Comd 103 Div Eqpt Sp before being nominated to attend NDC Course 26. Courses attended include YOC (Inf), YOC (EME), YOC (Armr), Coy Comd (EME), Coy Comd (Armr), CO's Course (EME) as well as the Junior and Senior Staff Courses at AFCSC, Jaji. He has also attended a Defence and Security Management Course 4 at the African Centre for Strategic Research and Studies, National Defence College, Nigeria. He was a participant in Seminar on Command and Leadership at the Nigerian Army Resource Centre, Abuja. Brig Gen AA Fadayiro holds a Master of Science Degree in Peace and Strategic Studies from University of Ibadan.
Medals and honours awarded to him are UNAMSIL, MONUC, psc (+) CM, FCM, FSS, MSS, Golden Jubilee Medal (GJM). Brig Gen AA Fadayiro is happily married to Mrs Olubisi Omotayo Fadayiro and their union is blessed with 2 boys and a girl. His hobbies are reading, playing badminton and watching documentaries.