Prof AO Ahmed PhD, FNIPR, FIMC, GM- CPI, CAAL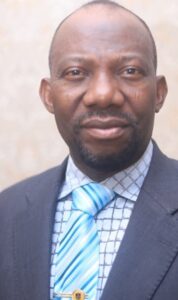 Adam Okene Ahmed was born in December 1963 in Okene, Kogi State of Nigeria where he obtained his early education at the Primary, Secondary and Islamiyyah Schools. He obtained his Higher School Certificate at the School Basic Studies, Kwara State College of Technology, Ilorin Kwara State. He came top with Sir Michael Crowther Prize for the best graduating History student at the Bayero University, Kano in 1987. His MA and PhD were in Political Economy (History) and Economic History respectively.
Adam Okene Ahmed began his active academic life after a short stint as a Journalist, in 1992 as Assistant Lecturer at the elite Military University, Nigerian Defence Academy (NDA) Kaduna Nigeria. He rose through the academic ranks and cadres to become a Professor of Security History, Conflict Resolution and International Studies in 2009. At NDA, Adam Okene Ahmed served in several capacities which include but not limited to, Head of Department of History and War Studies (2006- 2010), Dean Postgraduate School (2011- 2018) and Director, Directorate of Linkages and Collaboration (2018- 2022). In 2020, he served for few months in acting capacity as the Academy Provost of the Nigerian Defence Academy, Kaduna. At the Academy too, he chaired several Ad-hoc and Academy Standing Committees like Examinations Malpractice, Armed Forces Selection Board for the 65 RC Intakes, DHQ, Research Monitoring Office, Passing Out Parade/Convocation, Faculty Postgraduate, Faculty Facility Sharing, Faculty and Academic Curriculum, Recipients of NDA Honorius Causa, Academy Conditions of services for Senior & Junior Staff, Professorial Assessment, Academy Cadets Handbook on Academic Programmes, Steering Panel on the Establishment of the Academy Faculty of Military Sciences and Inter- Disciplinary Studies and Academy Project Monitoring Team
He has chaired or member of Teams on Academic Benchmarking to several Universities and Military Academies outside Nigeria which includes; Universiti Utara Malaysia (2010/11), Foundation for Critical Thinking, Ca USA (2015), Stellenbosch University, South Africa (2016), Royal Military Academy Sandhurst UK, Royal Airforce Academy Cranwell, UK and Royal Marines Academy (Commando Training Center) Lympstone UK (2020)
Adam Okene Ahmed has continuously interacted with the civil and military society on both Academic and Social matters; Chairman, several NUC Accreditation Panels to Federal, State & Private Universities, Member and Chair of the Central Nigeria, Presidential Research Committee (2004-06), Member of the Presidential Task Force on Police Reform (2009), Chairman Team XX of Federal Government's (FMoE & TETFund) NEEDS  Assessment to Southsouth Universities (2012), Distinguished Keynote Speaker & Resource Persons in, Nigerians In Malaysia on 2010 Nig Independence Celebration 2010, Current Issues on the Middle East (Arab Springs 2011), National Broadcasting Commission (NBC 2019), MacArthur Foundation and Habibiyyah Society, Project "EAT- FIN" (2016/2020), Chairman & Pro- Chancellor, Governing Council, Kogi State University, Ayingba (2017 – 20), Member Presidential Campaign Council (Security & Intelligence, 2019), Reviewer/developer; BSc Peace Studies & Conflict Resolution, National Universities' Commission (NUC, 2021) and Foreign Resource Person/Lecturer National Defence College, Tanzania (Mar 2022)
Adam Okene Ahmed is a Distinguished Professor (following his INAUGURAL LECTURE on, & FOUNDER of Security History/Boko Haram Since 2009: A Study in Security History; September 2018). His published works in Books, Chapters in Books and International Journals' Articles are cited among others in Scopus, ISI, Google Scholar, Cabell, Ulrich, EBSCOhost, DOAJ, Index Copernicus, AMICUS, Canadiana, Australian Business Deans Council, ProQuest, Universe Digital Library, PKP Open Archives Harvest, Lockss & Wafang Data.
Adam Okene Ahmed is a fellow of many professional bodies. These include National Institute Public Relations (FNIPR), Institute of Management Consultants (DIMC), Ambassador of Critical Thinking Institute, Tomales, Ca (FCTI), Global Team, CPI Publishers (GM- CPI) USA and Founder/Chair, Research Group in Security History. He is also a Life Member of the Historical Society of Nigeria (HSN).
Prof Adam Okene AHMED is married with Children