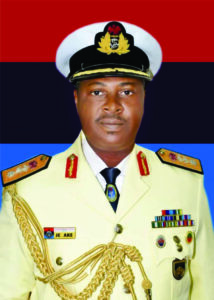 Cdre Joseph Ebizimo Ake was born on the 27 January, 1969 in Bayelsa State. The Senior Officer was commissioned on 10 September, 1993 as a member of 40th Regular Course of the Nigerian Defence Academy where he obtained a Bachelor of Science Degree in Biological Science and also holds a Masters Degree in National Security and War Studies.
The Senior Officer has attended some military courses which includes; Sub Technical Officers Course (STC) Officers Long OLC (specializing in anti-submarine warfare) at NNS QUORRA, Junior and Senior Staff Courses at AFCSC Jaji, others are Ship Diver's Course at Underwater Warfare School NNS QUORRA Apapa, Deep Sea Diver, Air Sea Rescuer and Supervisor Course from the South African Diving School SIMONSBERG, Salvage Diving Course at the Chinese Submarine Academy QUINGDAO CHINA and National Security and War Course Islamabad, Pakistan.
He enjoys playing SCUBA Diving, Travelling, Swimming and Playing Golf. The Senior Officer is married and blessed with 2 boys and a girl.