College Secretary - Air Vice Marshal BLP KEENAM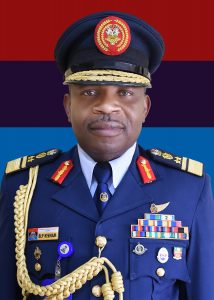 Profile to be posted soon…
Director, Department of Coordination (D COORD) - Brig Gen FU Mijinyawa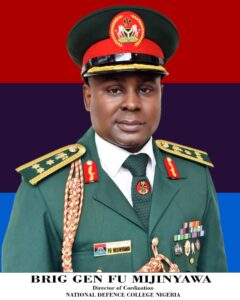 Profile to be posted soon…
Director of Administration (DOA) -
Profile of the new DOA to be posted soon…
Director of Logistics (DOL) - Brigadier General Abiodun Adebayo Fadayiro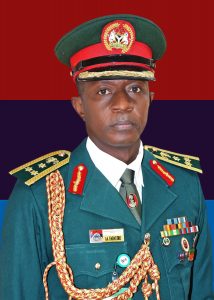 Brigadier General Abiodun Adebayo Fadayiro was born on 11 Sep 71 in Ilaro, Ogun State Nigeria.  He was admitted into the Nigerian Defence Academy Kaduna on 16 Sep 91 as a member of 43rd RC. He graduated with a B Eng in Mechanical Engineering in 1995 and was commissioned a 2nd Lieutenant in 1996.  On commission, he was posted to 1 Base Wksp Yaba, Lagos as Platoon Commander.  He has served in several units, formations and higher headquarters which include 73 Bn, Gds Bde Wksp, AHQ DOAL, NDC, AFCSC, HQ 2 Div and HQ 3 Div. He was promoted to the present rank of Brigadier General on 16 Sep 19.
Brigadier General AA Fadayiro has held several command and staff appointments commensurate to his rank and experience. These were AO, OC LAD, Prod Offr, Ag Coy Comd, Ag CO, DS at Armed Forces Command and Staff College, CO and Ag Comd 103 Div Eqpt Sp.   He was Ag Comd 103 Div Eqpt Sp before being nominated to attend NDC Course 26. Courses attended include YOC (Inf), YOC (EME), YOC (Armr), Coy Comd (EME), Coy Comd (Armr), CO's Course (EME) as well as the Junior and Senior Staff Courses at AFCSC, Jaji. He has also attended a Defence and Security Management Course 4 at the African Centre for Strategic Research and Studies, National Defence College, Nigeria. He was a participant in Seminar on Command and Leadership at the Nigerian Army Resource Centre, Abuja. Brig Gen AA Fadayiro holds a Master of Science Degree in Peace and Strategic Studies from University of Ibadan.
Medals and honours awarded to him are UNAMSIL, MONUC, psc (+) CM, FCM, FSS, MSS, Golden Jubilee Medal (GJM). Brig Gen AA Fadayiro is happily married to Mrs Olubisi Omotayo Fadayiro and their union is blessed with 2 boys and a girl. His hobbies are reading, playing badminton and watching documentaries.
Director of Finance and Accounts (DFA) - Brig Gen SA Gumel
Brig Gen SA Gumel was born on 24 Jan 68 in Gumel Town, Jigawa State. He had his primary and secondary education between 1972 – 79and 1979 – 84 in Gumel and Maigatari respectively. He was admitted into the Nigerian Defence Academy (NDA) on 4 Jan 93 as member of the defunct Nigerian National Guard (NNG) Course 1 and was commissioned Second Lieutenant on 25 Sep 93. Gumel holds a Bsc (Ed) Degree Mathematics in 1990, Post Graduate Diploma Accounting in 2009 and Masters Degree Public Sector Accounting in 2019 from Bayero University Kano, Nigerian College of Accountancy Jos and Nasarawa State University Keffi respectively. He belongs to several professional bodies in Nigeria and abroad. A Fellow Certified National Accountant (FCNA), Fellow of Chartered Certified System Accountant (FCCSA) USA, Member Teachers Registration Council of Nigeria (MTRCN), Member Institute of Security Nigeria and an Associate of Chartered Institute of Administration (ACIA).
Brig Gen Gumel attended several military courses at junior, middle and senior career levels; notable among these include Young Officers Courses of Infantry, Signals and Finance; Cashiers and Account Inspectors Courses; Logistics Staff Course and Command Division Finance and Account (CDFA) Course. He was privilege to serve in various capacities in the course of his career. Notable among appointments held/places served are; HOD Computer in NASFA, 13 Brigade Finance Officer in Calabar, Commander 7 Division Finance and Accounts in Maiduguri, Chief of Staff HQ NAFC and Director Finance and Account NDC from 01 Apr 21 till date.
Brig Gen Gumel has participated in several operations/missions both at home and abroad. He was in OP HARMONY Bakassi, OP LAFIA DOLE Maiduguri and United Nations Mission in Liberia (UNMIL). In recognition of this service, Gumel is a recipient of several awards and Medals among which include Forces Service Star (FSS), Meritorious Service Star (MSS), Distinguished Service Star (DSS), Field Command Medal (FCM), General Operations Medal (GOM) and United Nations Mission in Liberia (UNMIL 2). The senior officer is happily married and blessed with children. His hobbies include travelling, playing volley ball and watching nature/documentaries.