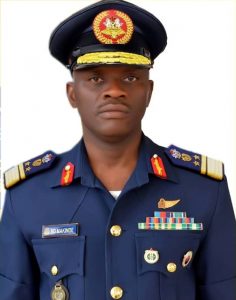 Air Vice Marshal Sunday Olanipekun Makinde was born on 4 August 1968 at Apapa, Lagos State. He hails from Ido-Ile in Ekiti-West Local Government Area of Ekiti State. He completed his primary education at Command Children's School Ikeja Cantonment, Lagos in 1979 before proceeding to Command Secondary School Ipaja Lagos for his secondary education and completed in June 1984. By September 1984, he gained admission into the Nigerian Defence Academy where he graduated with a Bachelor of Science Degree (Hons) in Chemistry and was commissioned Pilot Officer in September 1989.
He has attended several civil and military courses. These include the Officers' Orientation Aircraft Engineering Course (OEC), the Junior and Senior Staff Courses and the Building Partnership Aviation Capacity Course (BPACC) at the USAF Special Operations School. He attended the National Defence University Islamabad, Pakistan where he obtained the Masters of Science degree in National Security and War Studies. He also attended the National Security Seminar at Galilee International Management Institute, Israel. The Senior Officer is type-rated on the Airframe and Engine systems of 3 aircraft types: the MB339A  Aermacchi, the L-39ZA Albatross and the Alpha Jet.
He has held various appointments in many units across the Nigerian Air Force and tri-Service institutions. He was the Administrative Officer, 32 Engineering Wing 303 Flying Training School Kano between September 1990 – August 1992. He was Officer Commanding – Aircraft Services Squadron, Line Services Squadron, Support Services Squadron at various times. He was Staff Officer Grade One, Engineering at Headquarters Logistics Command from February to April 2001. In April 2001, he was appointed the Military Assistant to the then Air Officer Logistics Headquarters Nigerian Air Force. He was a member of Directing Staff from December 2005 to June  2008 at the Armed Forces Command and Staff College Jaji which earned him the insignia, psc(+). In between this period he was also the Staff Officer Grade One Training and then Acting Chief Instructor 'B' Division of the Senior Course. He was the Commanding Officer 32 Logistics Wing 303 FTS Kano from where he proceeded to be the Deputy Director of Training (Ground) at the Training and Operations Branch of Headquarters Nigerian Air Force in September 2012. By January 2014, he was appointed Director of Procurement at the Air Force headquarters before being posted to the National Defence College as a Directing Staff in November 2015. He was the Director of Information and Communications Technology at the National Defence College until 9 July 2018 when he was posted the 651 Base Services Group, Sam Ethnan Air Force Base Ikeja Lagos as Commander.
AVM Makinde is happily married with children.