CSRS and BMATT Holds 3-day Sensitization Workshop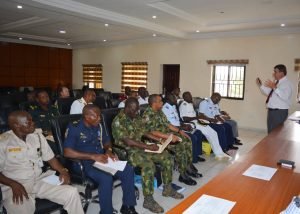 The Centre for Strategic Research and Studies (CSRS), National Defence College (NDC) is organising a three-day sensitisation workshop scheduled to take place from 23 to 25 March 2021 in collaboration with the British Military Advisory Training Team (BMATT).
The Sensitisation Workshop On Gender Mainstreaming For Gender Desk Officers Of Defence and Security Agencies is aimed at providing an opportunity to enrich and equip the capacity of Gender Desk Officers in the defence and security sectors by creating awareness to promote better working knowledge of UNSCR 1325, NAPs and institutional gender policies.
It is expected that knowledge gained, will serve as a guide in the discharge of their duties and promote human security at tactical and operational levels of conflict resolution and peace processes in Nigeria, regionally and globally.