3 Foreign Participants Bag NIM Membership
Three foreign Participants of NDC Course 30 yesterday, 14 April 2022, bagged the professional membership of the Nigeria Institute of Management (NIM Chartered). These recipients are among the 63 participants, who successfully completed the NIM-organised Executive Training for Membership and Upgrade Programme (ETMUP) at the College. Other recipients include 45 Nigerian participants of NDC Course 30 newly inducted; and 15 others that upgraded their membership of the Institution. The Allied Participants are Lt Col DP Oyoua, Lt Col BB Samake, and Gp Capt JAS Gbondo from the Republic of the Congo, Mali and Sierra Leone respectively.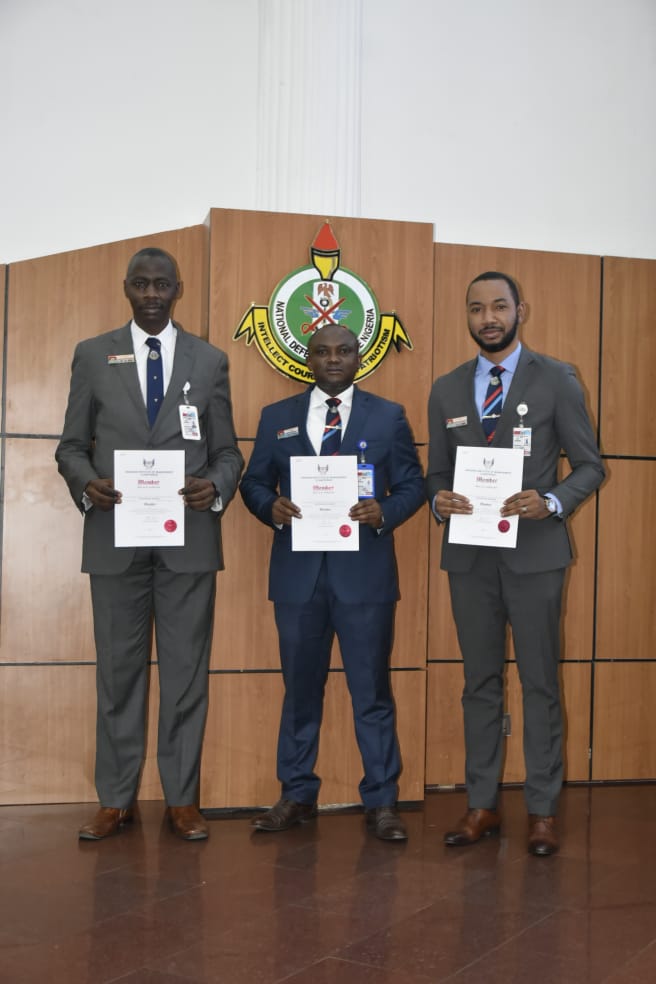 Presenting the certificates, the President and Chairman of Council, NIM, Major General Abdullahi Iyanda Muraina (retired) applauded the inductees for their courage and commitment to take up the additional challenge posed by the NIM training and evaluation despite the rigour and intensity of the Higher Defence Management and Strategic Course. Gen Muraina urged the inductees to be change agents in whatever capacity they are called to serve. He also charged them as NIM members to render selfless service to their respective military service by living above board in order to make meaningful contributions to the strategic transformation of their countries.
Describing the inductees as NIM ambassadors, the NIM President urged them to be guided in their endeavours by the spirit and letters of the Institute's code of professional management practice, which are integrity, transparency, responsibility, accountability, equity, fairness, efficiency and effectiveness in order to overcome many of the banes to national development in Africa. Therefore, he enjoined the inductees to participate actively in the Institute's learning progress as part of continuous development and advancement to the next grade of their NIM membership.  The management package, as part of Modules 1 and 6 of the Higher Defence Management and Strategic Course, is intended to train the participants to become better professional managers.